One of Norbulingka's aims has always been to provide gainful employment to Tibetan refugees, offering training, and bringing out the natural abilities of people who have come from Tibet and are largely uneducated in the skills needed to find employment in the modern world. Women especially were largely illiterate until quite recently, and didn't have the opportunities to acquire business or trade skills that some men did. Masters of the home, and experts in pastoral care and farming, their skills were not transferrable to life in India. However, coming from a culture where each family was largely self-sufficient, and even made their own tents and clothing, most women did have knowledge of sewing. And it was upon this base of knowledge that we began our two sections, which employ many of the women at Norbulingka: Tailoring Appliqué and Tailoring Design.
Appliqué is a special type of embroidery which makes use of many individual pieces to form an intricate patchwork design. Used mostly in Tibet for creating silk thangkas, we have adapted the appliqué technique to create beautiful home furnishings such as cushions, bedcovers, and wall hangings. Instead of the figures of deities, traditional Tibetan motifs such as flowers, animals, and auspicious symbols are created using the highest quality silks and cotton hand-woven at Norbulingka.
Appliqué is a teamwork process, with each tailor performing a different part of the work. The master creates a stencil of the design on tracing paper and perforates the outline with small holes. For each individual piece, the stencil is then placed on different colored cloth and rubbed with chalk powder so the image will be transferred. Once the image is transferred, it is then traced and embroidered. Finally, the individual images are ironed and sewn together, creating a lovely layered effect.

Our appliqué soft furnishings are the product of many hours of care and the hands of many artists.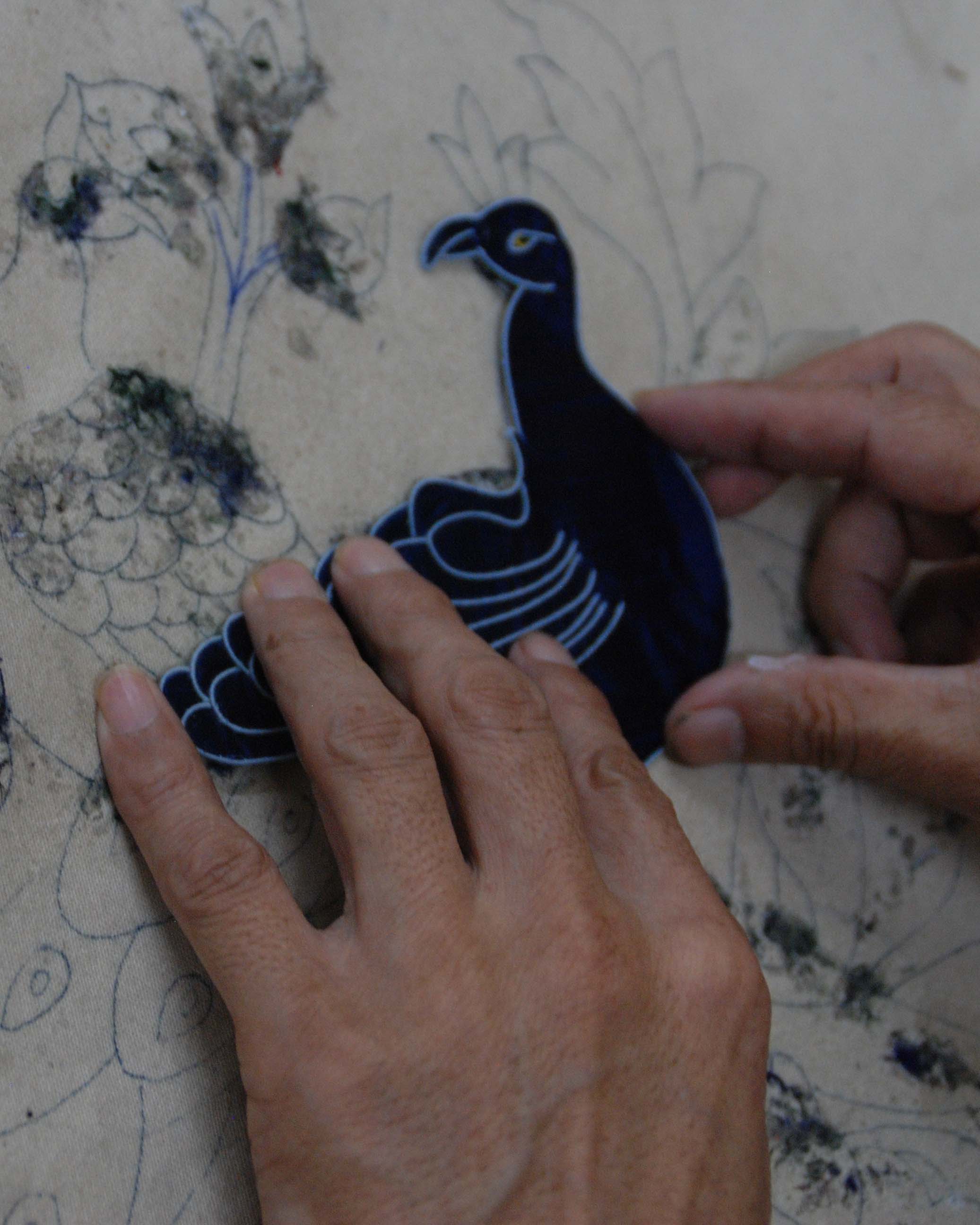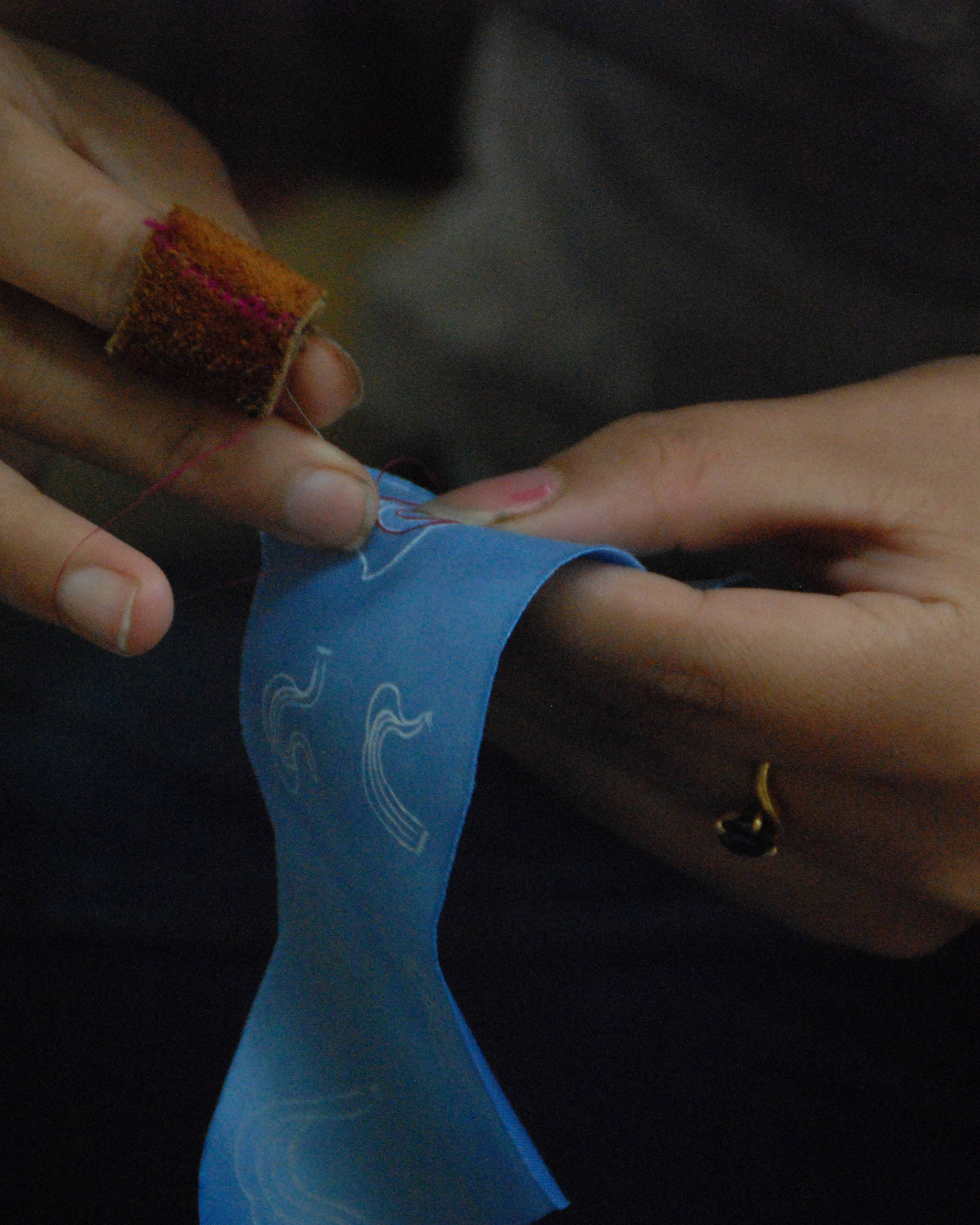 Our tailoring design section is responsible for creating Norbulingka's signature clothing line, The Traveler's Collection, as well our Nomad Collection, a range of screen-printed canvas aprons, bags, pouches, and laptops cases. Our design team and our tailor master work in collaboration to create patterns for our collections, which our tailoring team then bring to life. Most of the women in our workshops start with a basic knowledge of sewing, and beginning with the easier projects, slowly gain experience, becoming experts in their trade. Although we have no formal apprentice program, because Norbulingka prides itself in producing work of the highest quality, our tailors are supervised closely, receiving guidance on difficult projects and suggestions on how to improve, gaining valuable job experience. The joyful women at work can be heard each day as the sound of their morning prayers chanted in unison echoes from their workshop.
Our collections are one-of-a kind pieces created especially for Norbulingka, incorporating Tibetan themes, but updated for modern use. Most of the pieces were created using hand-woven Norbulingka cloth, custom-blended using the finest organic cotton, wild silk, and woolen threads. With a focus on comfort and classic style, our pieces can be worn and treasured for years.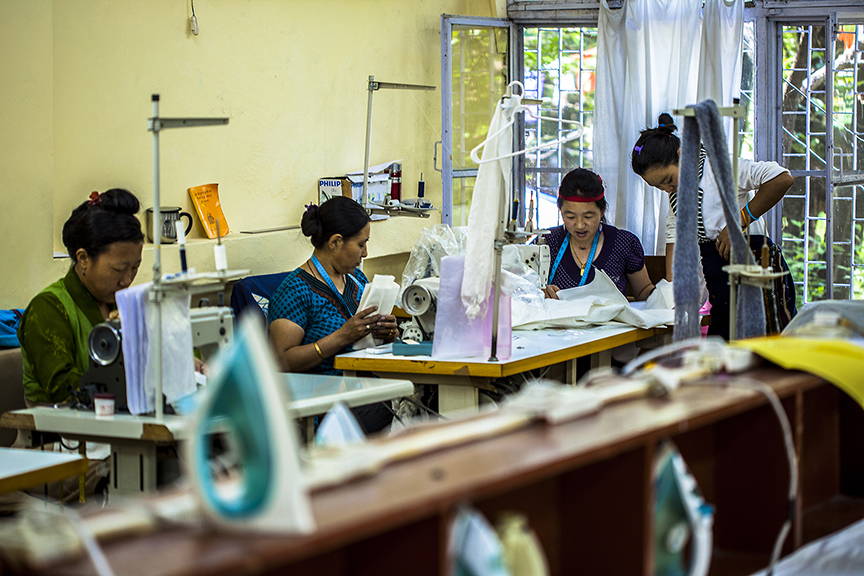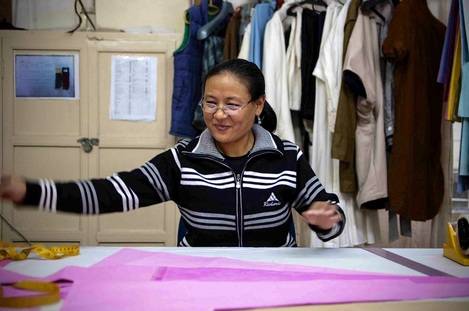 Lhamotso, Tailoring Design Master